State Fair Beekeeping Booth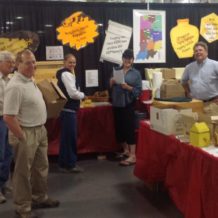 Support Central Indiana Beekeepers at this years State Fair.
Share your love for beekeeping by helping CIBA at the Indiana State Fair (August 4 to 20)!.
Saturday, August 4th

9:00 AM to 3:00 PM
3:00 PM to 9:PM

Tuesday, August 15th

9:00 AM to 3:00 PM
3:00 PM to 9:PM
Volunteers assist with promoting beekeeping at The Beekeepers of Indiana (TBoI) booth, located in the Agriculture and Horticulture Building, right next to the Midway.  You need not be an experienced beekeeper!  In fact you need not be a beekeeper. If you value bees and other pollinators, if you enjoy honey and honey products, if you like having fun – This is the volunteer experience for You!
Q: What goes on at the TBoI Beekeeping Booth?
A: We promote beekeeping in Indiana, but there is so much more.
Local beekeepers from throughout the state may sell their honey and other hive products (candles, lip balm, soap, and more.)  –  Visitors may sample different honeys before buying.

Have honey to sell? Perhaps this is a venue for you.

Honey ICE CREAM is very popular, is honey tea and lemonade.
There is an Observation Hive! – Help visitors find the marked queen!
We provide education
We have FUN
Q:  What would I be doing?
A:  A bit of everything, but only activities with which your are comfortable: Selling honey ice-cream (it sells itself), offering honey tasting samples, selling products, helping visitors find the queen..
Q:  What is in it for me?
A:  The satisfaction of promoting beekeeping and helping CIBA. Learning a LOT about beekeeping as you listen in on other conversations. You also receive a gate ticked for your day.
Q: Why is CIBA doing this?
A: Because we LOVE Beekeeping! — But also because the club receives a percentage of sales to use for local programming and other educational activities.
Q: How do volunteer?
A:  Contact Jerry Zimmerman
SaveSave
SaveSave
SaveSave
SaveSave
SaveSave
SaveSave