News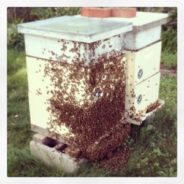 July and August are challenging times for both Honeybees and Beekeepers: Nectar flows are low, days are hot and humid, Common Occurrences and Concerns: There is hardly any brood! Why? I can't find my queen! Do I have a laying worker? Bees are collecting on the outside of my hive. I see hive beetles. – What about varroa mites? What is robbing? – What if anything can be done? Should I feed? If so, what and how much? Fill in the blank _____________ Join us on Monday evening, July 17, 6:30 PM, Holliday Park Nature Center. David...
read more
Support Central Indiana Beekeepers at this years State Fair. Share your love for beekeeping by helping CIBA at the Indiana State Fair (August 4 to 20)!. Saturday, August 4th 9:00 AM to 3:00 PM 3:00 PM to 9:PM Tuesday, August 15th 9:00 AM to 3:00 PM 3:00 PM to 9:PM Volunteers assist with promoting beekeeping at The Beekeepers of Indiana (TBoI) booth, located in the Agriculture and Horticulture Building, right next to the Midway.  You need not be an experienced beekeeper!  In fact you need not be a beekeeper. If you value bees and other...
read more
Awesome meeting on May 15th! – Well attended with at least 8 new attendees eager to learn more about beekeeping. New attendees introduced themselves and related their interests in beekeeping. They were aware of existing beekeepers living near them. – Welcome! We hope to see you often. Informal swarm report! Many attendees had hives which had swarmed. Several had captured swarms, either their own or others. Guest presenter was Dave Barrickman of Wildflower Ridge Honey. Dave manages over 200 colonies of honeybees. He...
read more
If you have not yet added your candy board or some sort of upper ventilation you may want to consider getting it done sooner rather than later.  With the plummeting temps we have experienced that are more typical of late December, means that you should get them on sooner.  We observed on some hives as of Friday November 14 that there was condensation forming in the upper part of the hives. Even if you just put the candy frame on (with no sugar) should help with ventilation.  If you do have your sugar candy board in, the bee's may...
read more
Several local beekeepers including members of the Central Indiana Beekeepers Association were interviewed for an article on honey bees in Nuvo magazine recently. For an online magazine view of the the issue see the 06/19/2013 issue as hosted by issu.
read more
CIBA members made candy boards at the October meeting.  The following is the procedure to make your own if you can not attend the meeting.  The diagram at he bottom of this article shows how to make your candy board. After you have your candy board made you can follow the below procedure to fill it with 'candy'. Items needed Candy board frame Some type of paper to line the candy board with, tissue, news, etc. 10 to 15 lbs. Sugar Tub or bucket to mix in Rubber gloves if preferred or use bare hands 6 oz. of cold...
read more
The East Central Indiana Beekeepers Association held their 12th annual spring auction and pitch in-lunch on May 19th.  Several members from the Central Indiana Beekeepers Association were in attendance. Tim Caldwell from the East Central and Central Indiana Beekeepers Associations gave a demonstration and question and answer session on top bar hives.  He discussed top bar hive beekeeping techniques and the differences between them and Langstroth hives.  He discussed advantages and disadvantages of both and answered questions on top by hive...
read more